Salvo Electronics, a Division of Salvo Technologies, Inc., is a manufacturer and distributor of electronic, optical and opto-electronic components, PCBs, CCAs and cable assemblies to the US Government and Prime Defense Contractors. By partnering with other manufacturers and major authorized distributors Salvo also serves a large industrial and commercial OEM and CEM client base. As an SBA registered Small Business Concern, Salvo has achieved the highest vendor ratings in these industries while facilitating client attainment of down-line spending goals. Established in 2007, Salvo is a group of highly skilled professionals collectively sharing decades of experience in research, planning, development, manufacturing and service.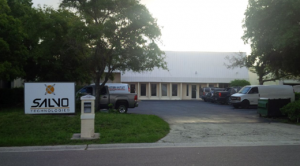 Salvo cultivated a strategy to assist their industrial partners through the development of additional supplier relationships within our current clients' multidivisional procurement infrastructure, i.e. engineering, prototype, pre-production and full-production manufacturing, with emphasis on facilitating their MRP Systems and providing immediate solutions to shortfalls resulting from planning error, product obsolescence, hard allocation, or quality and cost issues. Salvo entered the electronic, optical and electro-optical component market with full production capability as well as partnerships with leading industry suppliers and has a team of technical experts for the manufacture and distribution of precision components and assemblies. Our team boasts over 100 years of manufacturing experience in the entire value stream from design engineering thru fabrication and assembly.
Check out our full service Capabilities for all your Electronic Component, Printed Circuit Board and Cable Assembly needs and Contact Us today!
We Specialize in "YES!"